Fun and Festivals in North Myrtle Beach
Music On Main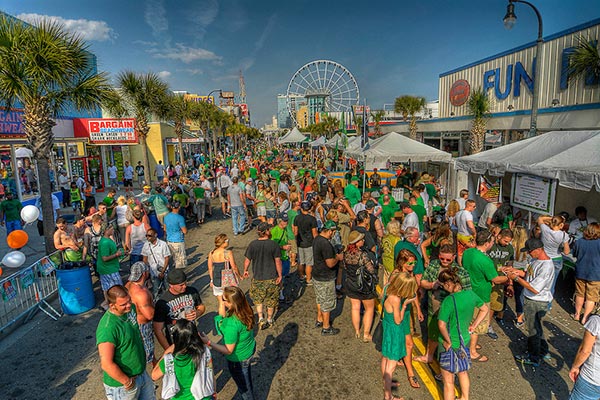 St. Patricks Day Celebration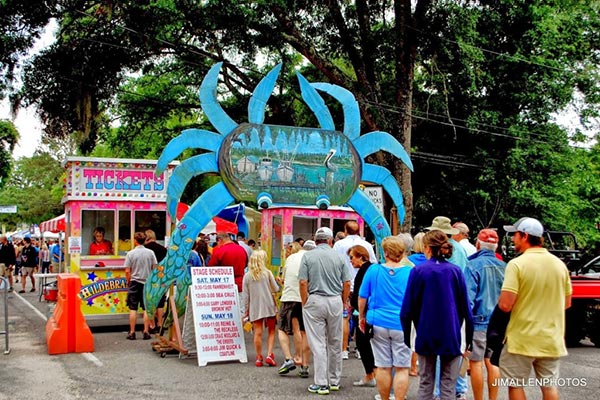 Blue Crab Festival
Festivals, parades, expositions, and all manner of celebrations can be found throughout the Grand Strand the whole year long. They attract lots of happy tourists, many of which return year after year, as well as happy residents who revel in the countless pleasures the region has to offer. No doubt about it, the choices available in the North Myrtle Beach, South Carolina area make it impossible NOT to have fun!
It would be impossible to provide a comprehensive list of the area's many entertaining events, but here are details about a few of the most notable options to consider if you are going to vacation in the North Myrtle Beach, South Carolina area this year.
Something fun that the whole family can participate in all year long is Pickleball. The Grand Strand has over 80 area courts and many more in process. If you currently play the game or want to learn how to play, then the J. Bryan Floyd Community Center (JBF), 1030 Possum Trot Road is your pickleball vacation destination in North Myrtle Beach. JBF has six indoor courts in two gymnasiums and four lighted outdoor courts. Indoor play is Monday through Friday, starting at 9:00 am. The cost to play is nominal. Inside play is limited to players who are 18 and older. Outside play has no limits but you need to provide your own equipment. For more information you can call JBF at 843-280-5570.
In January, fitness goals can figure into a smart vacation strategy. Nearing its thirtieth anniversary, the Annual Winter Run, including a 5k and a 15k, is the oldest continuous running event in Horry County. The races cover portions of Ocean Blvd., Hillside Drive, Main Street and other side streets of North Myrtle Beach.
In February, Dick's Last Resort at Barefoot Landing throws a remarkable Annual Mardi Gras Parade. Guests can join in the fun by participating or just sit back, relax and watch the hysteria. Stick around afterward for celebrations at several of Barefoot Landing's other restaurants and eateries!
In March, Main Street becomes center stage (as it often does!) for fun in the North Myrtle Beach sun with an annual St. Patrick's Day Parade and Festival. There's always magic in the air during this free one-day event that includes a family-friendly street festival. Stroll through over 100 arts and crafts booths. Live musical entertainment is continuous. Food vendors serve up a tasty selection of Irish-inspired and beloved festival foods, and there's a kid's area full of games and rides for the shorter set.
Also in March, the annual Taste of the Coast, now in its fifth year, takes shape at Barefoot Landing. Local restaurants set up booths and offer samples of their specialties. The atmosphere is family friendly atmosphere and typically boasts a huge kids' zone with exciting games and activities. There's live entertainment too!
Each year in April, the arrival of spring is celebrated by thousands of shaggers from points north, south and west. It's called the SOS (Society of Shaggers) Spring Safari, and it's said they hit the road "in search of wild life," and they know exactly where to hit the mother lode – the famous strip of sand known as the Grand Strand – most especially North Myrtle Beach. This event takes the cake and shouldn't be missed … if only for the people watching. Shaggers are a passionate crew – passionate about dancing and about partying!
May is probably best known for the annual Blue Crab Festival – which celebrated its thirtieth anniversary in 2011. This celebration showcases the fabulous atmosphere of the fishing village of Little River Community just north of North Myrtle Beach proper. There's food and vendors and live entertainment. This is a Grand Strand mainstay, and is definitely a must – for locals and visitors. If you've never visited Little River, get set to fall in love.
In June, there's more on the calendar that there is space to share. Music on Main is a series of concerts held every month, May through September. There's a movie series too. And all the fun and flair of summer is in full swing. Clubs are hopping. The sand is warm. The seafood's fresh. Life is good. Hurry!
July explodes in style with the annual Fireworks exhibition at the iconic Cherry Grove Fishing Pier at 3500 N. Ocean Blvd. in the Cherry Grove section of North Myrtle Beach. For nearly twenty years this has been a memory-making event for entire families – young, old and everyone in between. This event is free and open to the public, so come out, bring a beach chair and enjoy fireworks at the ocean's edge!
August continues with multiple concert series and all the typical fun that accompanies a hopping summer season.
And then there's September. Summer's end is marked by shorter days and the tiniest dash of chill in the night air. This can only mean one thing: the shaggers are coming home again – to North Myrtle Beach and Ocean Drive! The Fall Migration of SOS (Society of Shaggers) is like traveling to mecca for soulful shaggers seeking the final shades of summer and a few more opportunities to shimmy on a sandy dance floor.
October sails in with the Cruise to the Coast Antique & Classic Car/Truck Show. Based at Barefoot Landing, visitors join thousands of fellow classic car enthusiasts and the Chicora Regional Car Club for a jammed-packed day of classic and antique cars and trucks. Every year more than two hundred cars are registered, and there are trophies, prizes, awards, fun and games.
October is also known for the Endless Summer Festival. Instead of welcoming cooler weather with open arms, the sandy shores of North Myrtle Beach insist on celebrating never-ending warmth with the Endless Summer Festival! There will be fabulous entertainment, lots of vendors with crafts and food, food, food, as well as a classic & antique car show and children's area with community stage and carnival rides.
The Intracoastal Christmas Boat Regatta has become a much-anticipated event in November. Each year on the Saturday following Thanksgiving, there's spectacular maritime parade at the Little River Inlet at 5 PM. The boats travel south and arrives at Dock Holidays Marina at 7PM. Gather your family and watch the parade as it passes various viewing areas along the Intracoastal Waterway from Little River to Dock Holidays Marina.
December, not surprisingly, is filled with parades and concerts and cantatas … again, there's more to share than space to share the details. There is so much to do in North Myrtle Beach! From year-round festivals and entertaining dinner shows to challenging miniature golf - North Myrtle Beach is the place to have fun! Go to https://parks.nmb.us/festivalsevents/ for details on these and many, many more activities sure to inspire and delight.