Weekend Getaways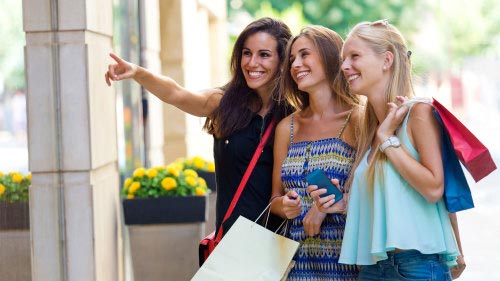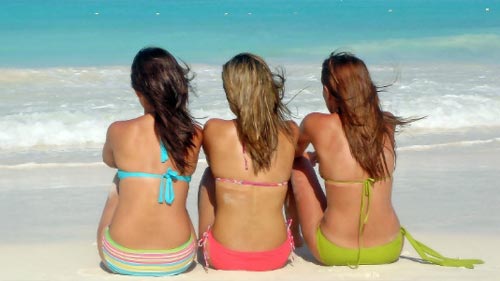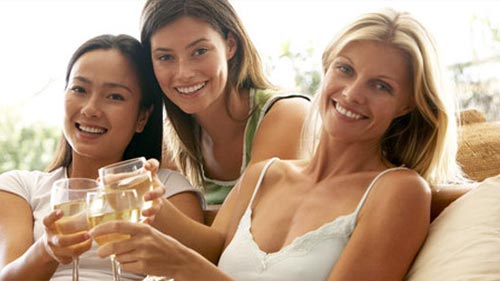 Shopping comes in all shapes and sizes around Myrtle Beach. Several outlet malls with all your brand name favorites at terrific prices will please the bargain hunters, while shopping malls from one end of the beach to the other offer an indoor escapade. On the Grand Strand, Myrtle Beach shoppers can shop the riverfront, oceanfront, boulevards or boardwalks, stopping only long enough to savor a delicious lunch or cool ice-cream break. Sometimes there is shopping within walking distance of North Myrtle Beach resorts, oceanfront condominiums or luxury beach houses. Check the location of your vacation rental to see what shopping is only minutes away from you. Think of Elliott Beach Rentals for your Spring Break Getaway too!
Shop 'Til You Drop in Myrtle Beach
Shopping on the Grand Strand is as popular as picking up shells and eating seafood and there is a seemingly infinite number of stores, malls and shopping centers where you'll find the perfect gifts, eclectic home décor and trendy fashions. From charming boutiques, where fresh, new ladies' accessories are all the rage, to 400,000-square-foot complexes with name-brand stores and popular restaurants, Myrtle Beach whets your shopping appetite.
Callahan's of Calabash offers a unique shopping experience on the north end of the Grand Strand. The enticing exterior, with wrap-around porches and decades-old trees, only hints at the treasures you'll find inside. Within its 35,000 square feet are four areas waiting to be explored: Callahan's Nautical Gifts, Pea Landing Mercantile, Callahan's Fudge Co. and St. Nick Nack's Christmas Shop.
The Curious Mermaid, Gifts for the Home and Garden, is a nautical treat where hand-crafted works of art are displayed, such as exquisite bronze mermaid cocktail tables and wrought iron wine racks. Embellish your garden with bejeweled garden stakes and an antique copper weathervane from The Curious Mermaid.
Shop both sides of a 27-acre lake and alongside the Intracoastal Waterway at Barefoot Landing. Miles of boardwalk takes shoppers past factory outlet stores, boutiques and specialty shops that intermingle with nature. Reminiscent of an old fishing village, Barefoot Landing is a perfect waterside setting with more than shopping. The Waterway Fireworks Spectacular is a spring and summer evening treat. More than 15 restaurants offer scrumptious lunch and dinner options and there's even a riverboat cruise that departs from Barefoot Landing. Throw in a live concert at House of Blues or Alabama Theatre, and you may never leave this shopper's paradise.
For a tranquil experience, visit Hope Taylor & Company, a high-quality boutique in the heart of North Myrtle Beach. Choose from an array of gifts, home décor and jewelry, including Waterford Crystal, Tommy Bahama bed lines and Brighton watches and handbags. Original oil paintings, Lee Middleton dolls and nostalgic furniture lend to the charm of this shopper's retreat.
La Boutique Froo Froo is a ladies boutique with an international flair for fashion. Find stylish bikinis and glamorous dresses that are sure to impress. Trendy handbags, too-cute shoes and other accessories you won't find elsewhere make La Boutique Froo Froo the place to go when "girls just want to have fun."
Tanger Outlet Centers of Myrtle Beach offer two convenient locations for even more outlet savings. It's bargain hunting at its best when prices are discounted up to 40% every day. Buy direct from the manufacturer and save money on your next shopping getaway. The newest Myrtle Beach Tanger Outlet Center (Highway 17 and Highway 22) is 400,000 square feet of shopping treasures, featuring 100 stores including Banana Republic, Coldwater Creek, S&K Menswear, Farberware, Liz Claiborne, Old Navy, Book Warehouse and Nags Head Hammocks. Three miles west of the Intracoastal Waterway on Highway 501 is another Tanger Outlet Center location with 100 outlet stores that include Bose Factory Store, Crabtree & Evelyn, Le Gourmet and Ultra Diamond Outlet.
Broadway at the Beach is 350 acres of shopping, nightlife and restaurants divided into four distinct communities: Caribbean Village, New England Village, Charleston Boardwalk and Heroes' Harbor. More than 100 specialty shops wind around a beautiful lake with ferry boats, that features waterfront restaurants with sun-filled patios. Broadway at the Beach is an award-winning shopping destination conveniently located just blocks from the oceanfront in Myrtle Beach.
Myrtle Beach's newest indoor mall is Coastal Grand and it's filled with more than 130 stores in nearly one million square feet. From Dick's Sporting Goods to Dillard's department store, this Myrtle Beach mall has it all, including Bed, Bath and Beyond, Brookstone, Ethan Allen, Ocean Jewelers and Starbucks Coffee. Located beside the Myrtle Beach International Airport, Coastal Grand Mall might be the first stop on your shoppers' getaway to North Myrtle Beach.
Shoppers' Home Base—Oceanfront Condominium
After a day of walking in an out of boutiques, malls and outlets, shoppers need a respite to revive their weary soles. What better remedy to rejuvenate than by relaxing on your own oceanfront balcony of your vacation rental? The views and sounds of the vast Atlantic Ocean are all that's required to remind you that every moment of this shoppers' getaway is a treat. Whether shopping with your best friend or your large family, Myrtle Beach has oceanfront condominiums that will ideally accommodate your needs and beach houses that will readily exceed your expectations.
Choose an oceanfront condominium that features a fully-furnished kitchen, washer/dryer and covered parking for maximum efficiency and convenience. Soaking tired muscles in a Jacuzzi tub or whirlpool is just what you'll need after spending all day visiting Myrtle Beach's fabulous shopping venues. Most oceanfront resorts boast such an amenity on their sun decks and some beach houses offer a private hot tub, too.
* Weekend = Friday and Saturday nights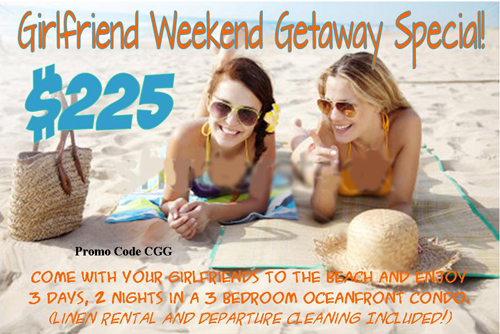 Girlfriend Getaways to Myrtle Beach! Valid March - May; Some restrictions apply, call for details.