Elliott Beach Rentals Welcomes Nascar Race Fans!
Darlington Raceway was originally constructed in 1950 to showcase stock car racing in a platform that rivaled the Indianapolis 500. Today this renowned rack track has seen the likes of Kyle Busch, Jimmie Johnson, Jeff Gordon and Dale Earnhardt take a victory lap.
The Darlington Stripe Zone is a pre-race party package that gives race fans the chance to walk down pit road, grab a bite to eat and watch interviews with NASCAR personalities before the big Showtime Southern 500 gets underway. This package includes appetizers, dinner buffet, beer tickets, live entertainment, official program, track souvenir and the chance to win prizes. In addition to this pre-race party package reserved parking is available for the entire NASCAR race weekend.

The Darlington Raceway Stock Car Museum and Pit Shop is a must-see to any car racing fan. It chronicles the Darlington Raceway as well as the history of stock car racing itself. The winning car of the first Mountain Dew Southern 500 sits in the museum, a 1950 Plymouth that Johnny Mantz drove. The convertible with the most wins and Richard Petty's 1967 Plymouth also have a prominent spot in the museum.

Darlington, SC is just a couple miles northwest of the I-20 and I-95 intersection near Florence, SC and only 90 minutes from the North Myrtle Beach area. Combining two of South Carolina's greatest assets—the beautiful beaches and a NASCAR race track—can make for a memorable vacation for your family. Elliott Beach Rentals has the accommodations and the discounts for a race weekend getaway that will get your engines revved up! Call us today. 888-669-7853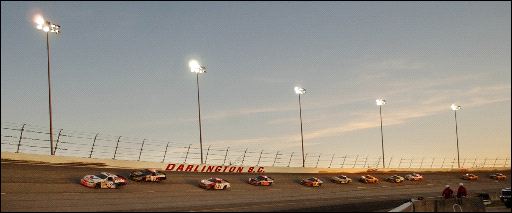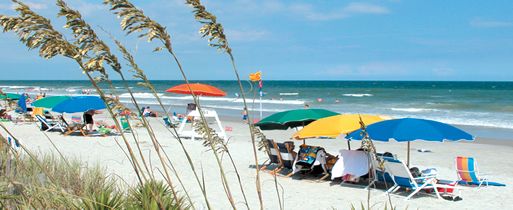 Call us at 888-669-7853 to speak with our professional vacation specialists to book your perfect racing get-a-way!
NASCAR fans are known for liking to have a good time—and there's no better place to have a good time than Myrtle Beach, South Carolina! Long known as a favorite vacation destination of sun worshippers and golfers, Myrtle Beach is fast becoming known as the place to travel for NASCAR lovers!
Myrtle Beach NASCAR Experiences
If you are wondering what Myrtle Beach has to offer the NASCAR fan in the way of race cars, speed and excitement, then perhaps you've never heard of the Myrtle Beach Speedway. This .538 mile track is host to the annual Myrtle Beach 400 Weekend that is held in the fall. NASCAR races at the speedway include Late Model Stock Cars, Super Truck, Charger and South East Late Models. You can even watch school bus races! Be sure to check out the Wheels of Destruction thrill show, which features stunt driving, car jumps crashes and explosions. If you've always dreamed of joining the ranks of professional NASCAR drivers, then sign up for the NASCAR Racing Experience at the speedway. Ride along as a passenger with a professional driver, or experience the thrill of NASCAR firsthand and take the car around the track by yourself! If you've got young ones that are interested in NASCAR, a great place in Myrtle Beach for you to take them is the NASCAR SpeedPark. Adults and kids alike will enjoy the selection of seven go-kart tracks (including a kiddie speedway), a huge arcade, a rock climbing wall, batting cages and amusement rides such as a sky coaster and a NASCAR themed Ferris wheel. What a great way for the NASCAR fans in your group to spend the day on your Myrtle Beach vacation!
Myrtle Beach Accommodations
Finding a place for your NASCAR-crazy bunch to stay while on your Myrtle Beach vacation will not be a problem! Whatever the size of your group, whether you want to be on the water or the golf course and whether you want to be right in the heart of all the action or off the beaten path, the huge number of Myrtle Beach vacation rentals makes is easy to find the perfect place! Perhaps you are traveling with a foursome of guys that want to golf in addition to checking out the NASCAR scene in Myrtle Beach, then a centrally located condominium rental with numerous bedrooms will be ideal for you! If you are planning on vacationing with your family, then an oceanfront beach resort with kiddie pools, children's programs and, of course, the beach, might be just what you are looking for! All of these Myrtle Beach rentals are close to over 100 golf courses, and offer great amenities such as kitchens, washers and dryers, fabulous swimming pools and lazy rivers and even flat screen televisions and Internet access so you can make tee times or check up on the latest NASCAR news. Be sure to check out the many options available to you in Myrtle Beach vacation rentals!
Myrtle Beach Entertainment
As a NASCAR fan, you are sure to be excited about all the NASCAR experiences you can have while on your Myrtle Beach vacation, but what else is there to do? Well, how much time do you have? You could spend your vacation in Myrtle Beach year after year and still not discover all there is to do and see. We've already talked about golf, but even the kids can enjoy the numerous themed mini-golf courses that line the streets. Broadway at the Beach and Barefoot Landing are both great places for the whole family, offering shopping, dining, aquariums, arcades, movie theaters and live music venues for you to choose from. Myrtle Beach is known for its great shopping, check out the bargains at a local outlet mall or go antiquing or hunt for souvenirs in the many kitschy beach shops. Go hungry—the best fresh seafood you will ever taste is in Myrtle Beach, which has a huge selection of restaurants for every taste and budget. The adventurer in you will enjoy trying things in Myrtle Beach that you've never done before. Parasail over the ocean, go windsurfing, bungee jump, take an eco-tour, learn to snorkel, go on a pirate voyage or race on a zip-line. If you want something a little tamer, then just spend your time on the beach, soaking up the sun, riding the waves on a boogie board or strolling hand in hand along the water's edge.
It's obvious that Myrtle Beach, South Carolina is a great place for the NASCAR-loving family to spend their vacation. Check out the NASCAR racing schedule at the Myrtle Beach Speedway, get your tickets for the Wheels of Destruction Thrill Show, drive a real race car and plan to spend a day at the NASCAR SpeedPark. All of the great NASCAR experiences that are available in Myrtle Beach, combined with the fabulous choice of accommodations and entertainment in the area make for the perfect Myrtle Beach vacation!


Come experience the Beach and