Ocean Drive Area Properties
---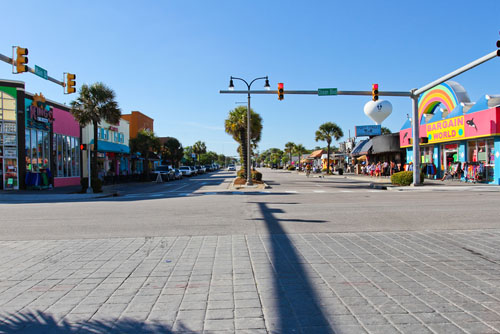 Ocean Drive in North Myrtle Beach, South Carolina, is a very special place indeed – it is known as the home of beach music and the Carolina Shag, a wild style of dance that is thought to have originated in the 1920s and has dancers cutting a rug in a combination of the jitterbug and swing dance. It's really something fun to see.
Several shag dancing festivals are held throughout the year in Georgetown, North Myrtle Beach and Myrtle Beach. There is also a handful of organizations and venues throughout the Grand Strand to keep the Shag alive. The Shagger's Hall of Fame is filled with dance notables.
At the intersection of Main Street and Ocean Boulevard, you will find fun bars and dance clubs that keep the music and good times flowing. Stop in one for a quick bite to eat and a refreshing drink, and you might find your feet taking you onto the dance floor to join in. Don't be shy, it's great exercise and is a lot of fun to cut loose. Prominent clubs to visit are Duck's Beach Club, Fat Harold's Beach Club, Ocean Drive Shag Club and OD Pavilion.

Main Street also has a ton of boutique businesses, with knickknack shops, pet care shops and more. Several grocery stores are located nearby as well as restaurants where you can grab a quick bite or a leisurely meal. It's also a short walk to the beach so when you are ready, you can dip your toes in the Atlantic Ocean.

The rental houses and condos in the Ocean Drive section of North Myrtle Beach come in every shape, size and color imaginable. You can find small beach houses that are cozy right alongside larger multi-story rental homes that can provide accommodations for a crowd. Some houses are four stories tall, with observation decks on the roof. What a view you would have from there! There are rental homes that are up on stilts, with plenty of parking underneath for the whole crew. Some have outdoor showers and entertainment areas, even pools and grilling areas right at the property.

Some of the Ocean Drive rental condos have all the resort amenities you expect from large hotels – from swimming pools and hot tubs, to sundry shops and restaurants, they are all here. Many rentals have direct beach access or are located just a street away. Come to Ocean Drive and feel the rhythm of Myrtle Beach, South Carolina.