Oceanfront Homes Vacation Rental Properties
---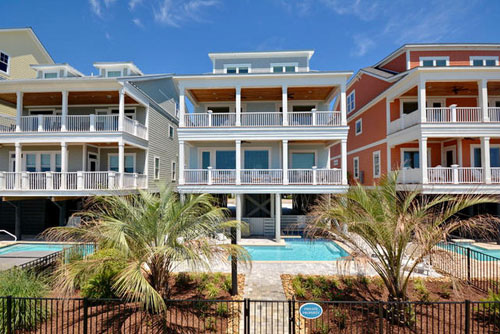 With 60 miles of gorgeous coastline, Myrtle Beach, South Carolina is a vacationing paradise! An oceanfront Myrtle Beach vacation rental is just the place to stay to enjoy all the beautiful Atlantic Ocean views and to experience some beach therapy. Start your day with a stroll along the seashore as the purples and pinks of a glorious South Carolina sunrise begin to peek over the horizon.
This solitary time of day is ideal for gathering colorful seashells to take back home. Mosey down to the waterfront after the kids get up and spend the day with your family in the warm sunshine. As the kids frolic in the surf, you can catch up on your reading or work on your tan. Pack a picnic lunch and spread out your beach towels—food just seems to taste so much better when you enjoy it in the refreshing coastal breezes! As you relax you are likely to spy the colorful sails of sailboats bobbing across the water as well as the occasional shrimp boat passing by.
There are all kinds of activities you and your family can enjoy while staying at the oceanfront. Set up a volleyball net, throw a frisbee, go snorkeling, do some fishing or just enjoy a glass of sweet tea as the waves roll in over your feet. Heaven! Make sandcastles and memories with an oceanfront Myrtle Beach, South Carolina vacation rental!